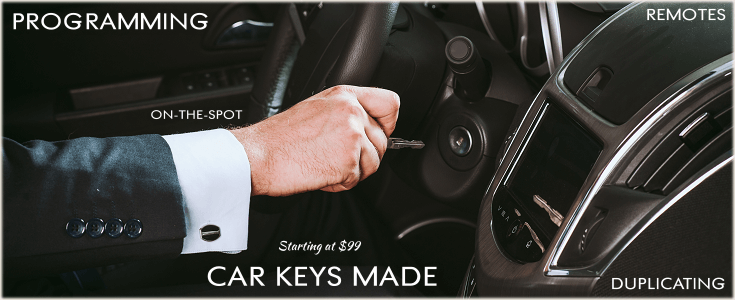 Who do you call when your car key is missing? How much does is cost to have a car key cut for my specific vehicle? All of those questions can be answered by our car key replacement experts in Dayton, Ohio for your complete satisfaction. We offer car key making solutions to people on the road or at their doorstep upon their request. Plus, we work 24-hours-a-day, covering the Dayton metro area to make sure no replacement keys emergency goes without getting our full attention! (937) 319-4260.
Emergency or Not, Here We Come!
It's kind of nice knowing there's a mobile car key service who can get to your spot within 15-20 minutes of your first call. Unlike a lot of car key replacement companies who serve Dayton, Ohio we won't let you wait an hour to receive a new car key copy. You can rest assure that we know all about stress in these type of situations. Usually, after the year 1995 any car's key has a chip in it. That is why our main goal is to perform what we call "auto key programming" and send you on your way as quick as we can!
Affordable Car Key Replacement Services
While at the dealership someone will charge you about $300-$400 for any set of car keys made, our key locksmiths can offer you the best deal in town! With Dayton's finest car key replacement service on your speed dial, you'll be able to keep your calm in case of a broken or misplaced car key. So whenever you need to duplicate car keys or simply program it to work on your vehicle's ignition, we're the right replacement car key business for the job! Here's a short list of affordable auto key services that can be achieved in Dayton, Ohio:
Automotive Key Repair.
Spare Car Key Copies.
Car Remotes Made.
Transponder Keys Cutting.
Proudly Serving Dayton, Ohio Surroundings!
Our team's ambition is to always go the extra mile when it comes to making keys for our neighbors outside of Dayton, Ohio. From our point of view, a great locksmith who provides car key replacements is defined by his ability to do so. No matter where you are on the map, we promise to do whatever we can to support you at a time of trouble. If we would have to guess, we would probably say that's the reason most people refer to us as Dayton car key replacement service of choice over the last decade.